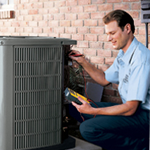 A home energy evaluation takes the guesswork out of home energy improvements by showing you all the different ways you can save energy and put money back in your pocket. A home energy evaluation is also an ideal place to start when considering adding new HVAC equipment to home. Let System-Aire visit your home and show you how to save money and reduce your carbon footprint.
Learning how to save money is just one of the benefits of a home energy evaluation. You'll also learn how to:
Increase Home Comfort
Improve Indoor Air Quality
Reduce Your Contribution to Pollution
Call us today to set up your appointment!